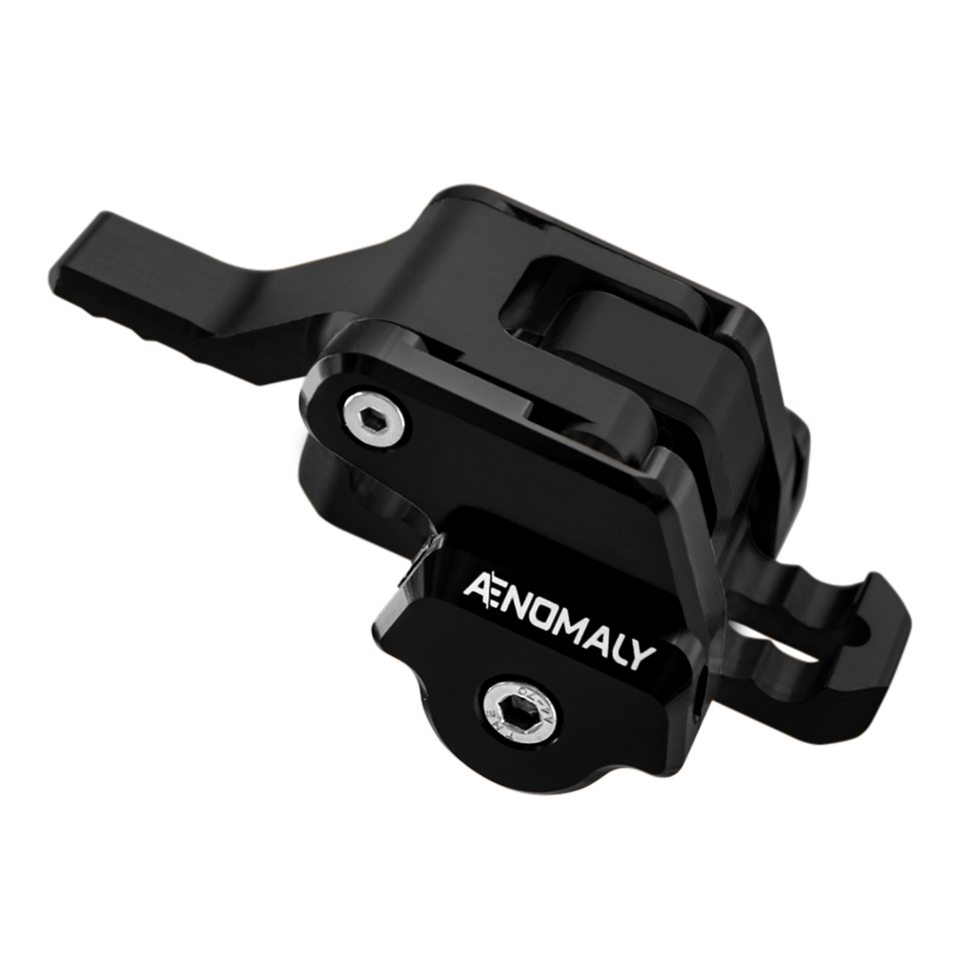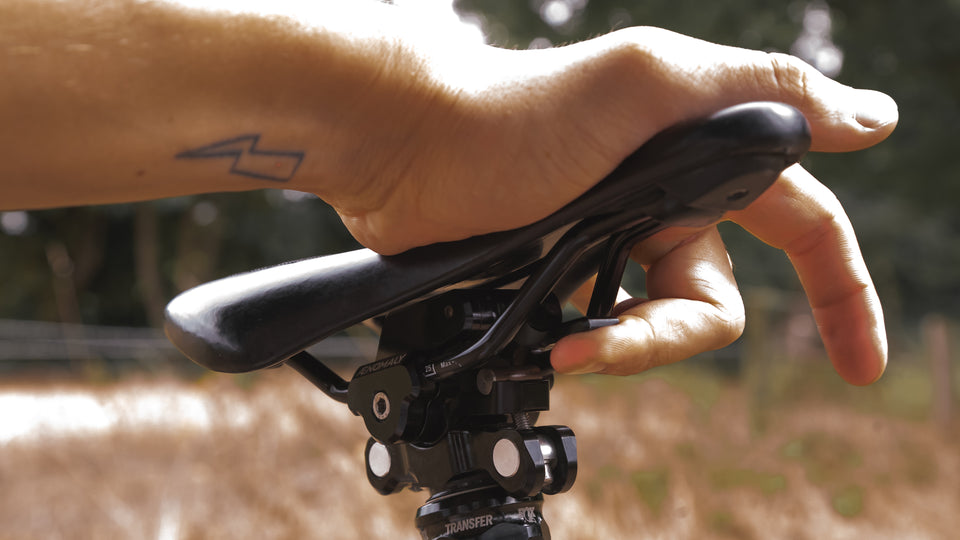 SwitchGrade - Blackout
SWG-V1T1-BL
3 ergonomic positions optimized for climbing, descending, and undulating terrain: 

-10 degree forward, 0 degree mid setting, 12 degree rear position.
Haptic feedback provides positive engagement for fast no-look changes on the fly, no tools.

>1 degree change in effective seat angle.

20mm adjustable effective reach.
Machined from 7075 T6 and 6061 T6 aluminum.
Dimensions: 10cm (L) x 5.5cm (W) x 4cm (H).
Weight: 170g (actual net change approx. 100-120 grams because SwitchGrade replaces stock rail clamps which average 60-70 grams).
Compatible with a wide range of market leading seatposts and saddles (saddles must have 7mm rails). See Compatibility Guide.
Designed and tested on the North Shore. Made in Whistler, BC, Canada. 

Patent Pending.
WHICH VERSION DO YOU NEED? Go to the Compatibility Guide to find out.
"This device could be a game-changer for many bikes and riders of all types."
"I ride with multiple folks for whom this could be the best upgrade to their riding experience since the dropper post."
"One seat position isn't actually the optimum position most of the time… sometimes on the super steep climbs you've got to get your weight right over the front and at the same time keep some pressure on the saddle so I think this is a really cool idea."

"All body types will benefit from the improved ergonomics when climbing and feel less vulnerable with a seat in a friendly, positive angle while descending."
"Absolutely genius!"
Well thought and well built
Honestly I was surprised by the quality of the Switchgrade. It's extremely well built with no play at all in all parts. The idea is also great to have different saddle angels for riding uphill and downhill. The steeper it gets the bigger is the benefit. It shaves of the degrees which separates between ugly and comfortable climbing.
Fantastic!!!
Hit the steepest of hills with ease and i mean steep, then smash back downhill with no trouble 👌 great invention!!
Great for wheelies :)
Switchgrade has nice finish and smooth operation. It is realtively easy to change seat position while riding. I have bought it to improve my ergonomy when pedaling and to hellp with longer wheelies - works great in both cases. I use type 1 on the canyon Iridium seatpost and the installation was withot any problems.
Not perfect, but pretty badass
I wish the forward tilt was about half as much of a change as it is. It's great for the super steep climbs, but anything less than super steep is a little too far nose down.
The change from flat to nose up is perfect, 10/10. I switch between these two the most often, and only occasionally use the nose down adjustment.
Pretty good!
Works as advertised. No freeplay/slack of the saddle. Easy to switch the 3 positions even while riding. -10 degrees is a little bit too much for the terrain that I ride, but as A.C. suggest there many options to adjust it to the riders needs, i.e. -7 climb, +3 neutral, +15 downhill; -5 standard climb, -15 steep climb, +7 downhill or many other variations depending on your terrain and needs. So, overall very versatile. I was surprised how the downhill angle really moves the saddle away from my crotch :)
I got the Type 1 version for One Up dropper post, the provided silicone cap was touching the valve only after tightening, leading to pressure loss, so I had to remove it and cover the valve with a tape because I didn't want to bother dismantling the dropper post to bring the valve lower, so buyers with valves on the top of dropper should have that in mind.
As first Bulgarian customer of A.C., I hope my review and advertising to friends, brings more Bulgarians aboard the Aenomaly :)