How do I know if my seatpost is compatible?
Will the SwitchGrade add to Stack Height?
How heavy is the SwitchGrade
Does the SwitchGrade work with all saddles?
Do you ship internationally?
What is your warranty policy?
What is your return policy?
SwitchGrades are compatible with a wide range of seatposts and saddles, however it is virtually impossible to maintain an updated list of all compatible combinations. Please refer to the Dropper Seatpost Compatibility Guide to see if your seatpost is compatible.
When placing an order, be sure to SELECT THE CORRECT "TYPE" noted in the Type column as this will advise our team which version of the SwitchGrade to send to you.
Yes, the SwitchGrade will add around 5-15mm of stack height depending on your seatpost. That change in height, however, highlights one of the most prolific features of the SwitchGrade - something we call "Functional Drop".
Functional Drop refers to the variable height differences gained and lost when toggling between the 3 index positions.
The SwitchGrade provides an additional 20mm lift when locked into "climb" mode, and a drop of around 30mm in "descend" mode.
See a simple video posted on Instagram about this very topic.
The advantages provided by Functional Drop include:
// allows for use of shorter seatposts to accommodate bikes with interrupted seat tubes.

// steepens effective seat angle greater than 1 degree and provides effective forward offset of 10mm when locked into climb mode

// creates ample room when locked into descend mode.

// addresses problems posed by bike's with tall or short seat tubes by allowing the use of shorter (or taller) dropper posts and no loss of travel, gained by "functional travel"

// addresses problem posed by dropper posts with high stack height - no need to worry, just tilt rear down and go!
If you're worried because you already have your dropper insertion maxed out, don't fret! When descending, the SwitchGrade will give you more standover - around 30mm more. Also consider that when using a SwitchGrade, riding with a flat saddle position can now be saved for flat sections which would usually mean a dropper post position at mid-height. Read "How to Unlock the Full Potential of your Dropper Post"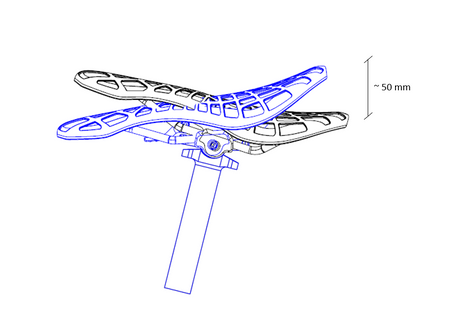 The SwitchGrade weighs 170 grams out of the box. But because it replaces the stock rail clamps which average 60-70 grams, the net gain is only about 100 grams total.
The current version of the SwitchGrade is designed to work with saddles featuring 7mm tubular rails. SwitchGrades will NOT work with saddles featuring 9mm rails or oval rails. We do not recommend using the current version of the SwitchGrade with saddles featuring carbon rails.
Yes. We use the following service providers for shipping:
Canada - Canada Post
USA - USPS
International - DHL
All shipped products will feature tracking to ensure safe and accountable arrival to their intended destinations.
IMPORTANT NOTE:
Country taxes and customs duties are not reflected in the price nor are included in the cart. Duties and taxes may be collected by DHL Express for international transactions outside of Canada and are the responsibility of the consumer.
WARRANTY
SwitchGrades come with a 1 year warranty covering manufacturer's defects, not including regular wear and tear from normal use, or damage caused by neglect, improper use, or incorrect installation. Aenomaly will decide, at its sole discretion, what constitutes neglect, improper use or installation.
Warranty is only valid for the original Purchaser. Proof of purchase is required.
CRASH REPLACEMENT PROGRAM
If you damage a product due to a crash or other ride-related mishap, you may be eligible for a 50% crash replacement for the damaged part or product as a whole. Be sure to contact us to determine full extent of support. We want you to be happy, riding as you should.
All Warranty related issues will be handled on a case-by-case basis.
Aenomaly Constructs will accept returns for unused products in their original packaging within 30 days of receipt of the item.
Please refer to this link for more detailed information.