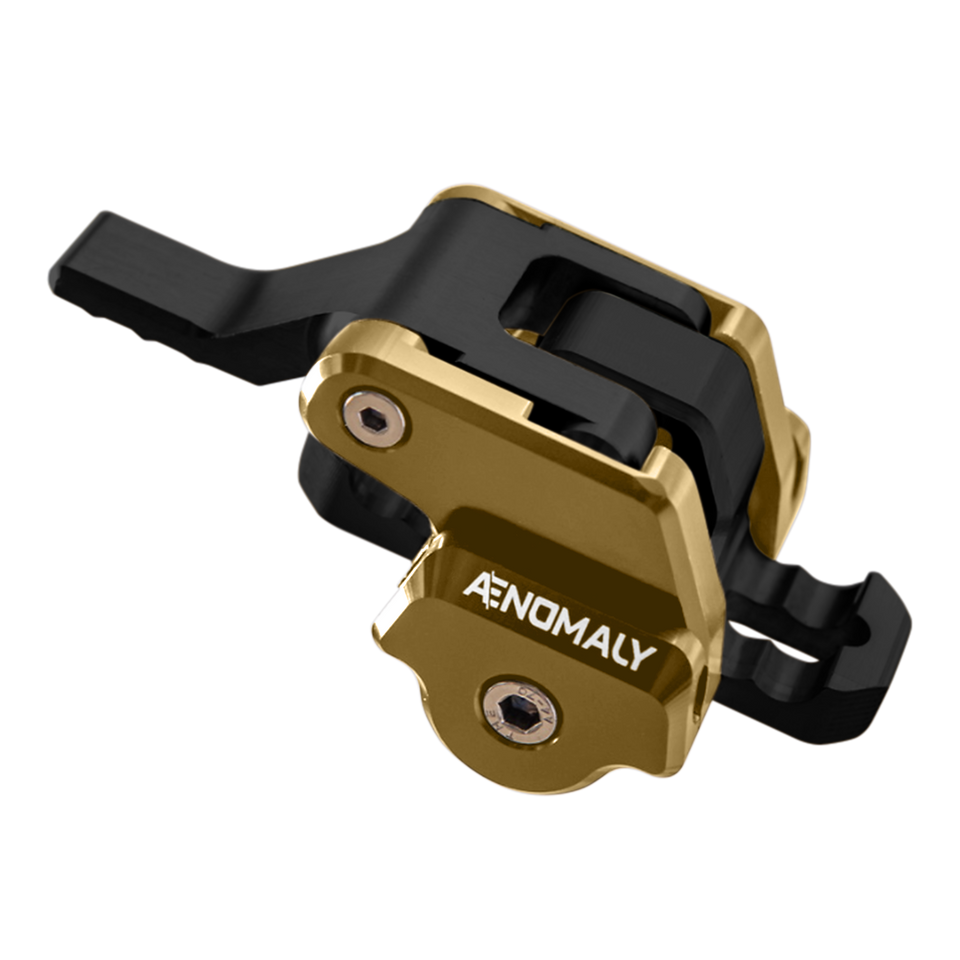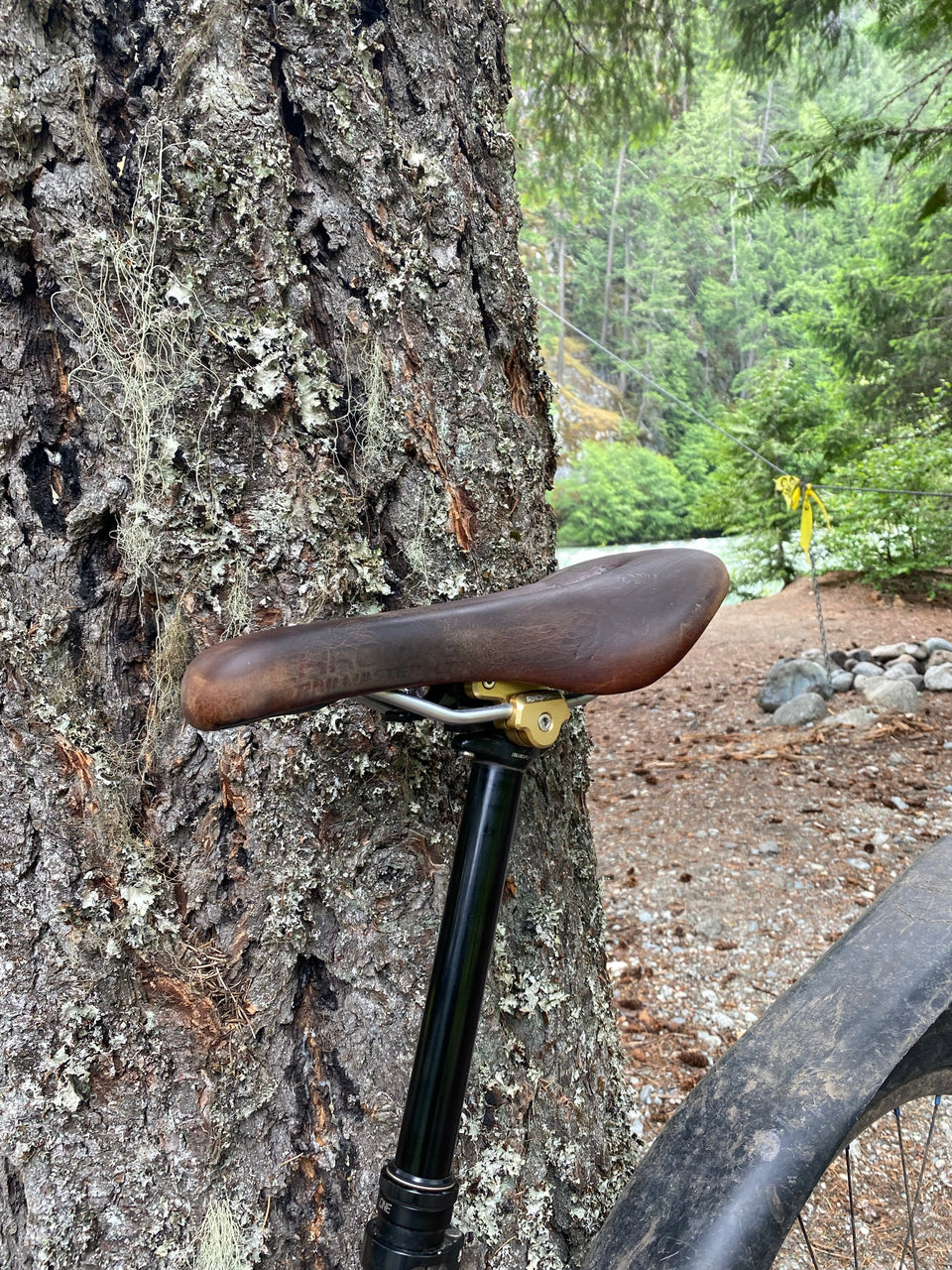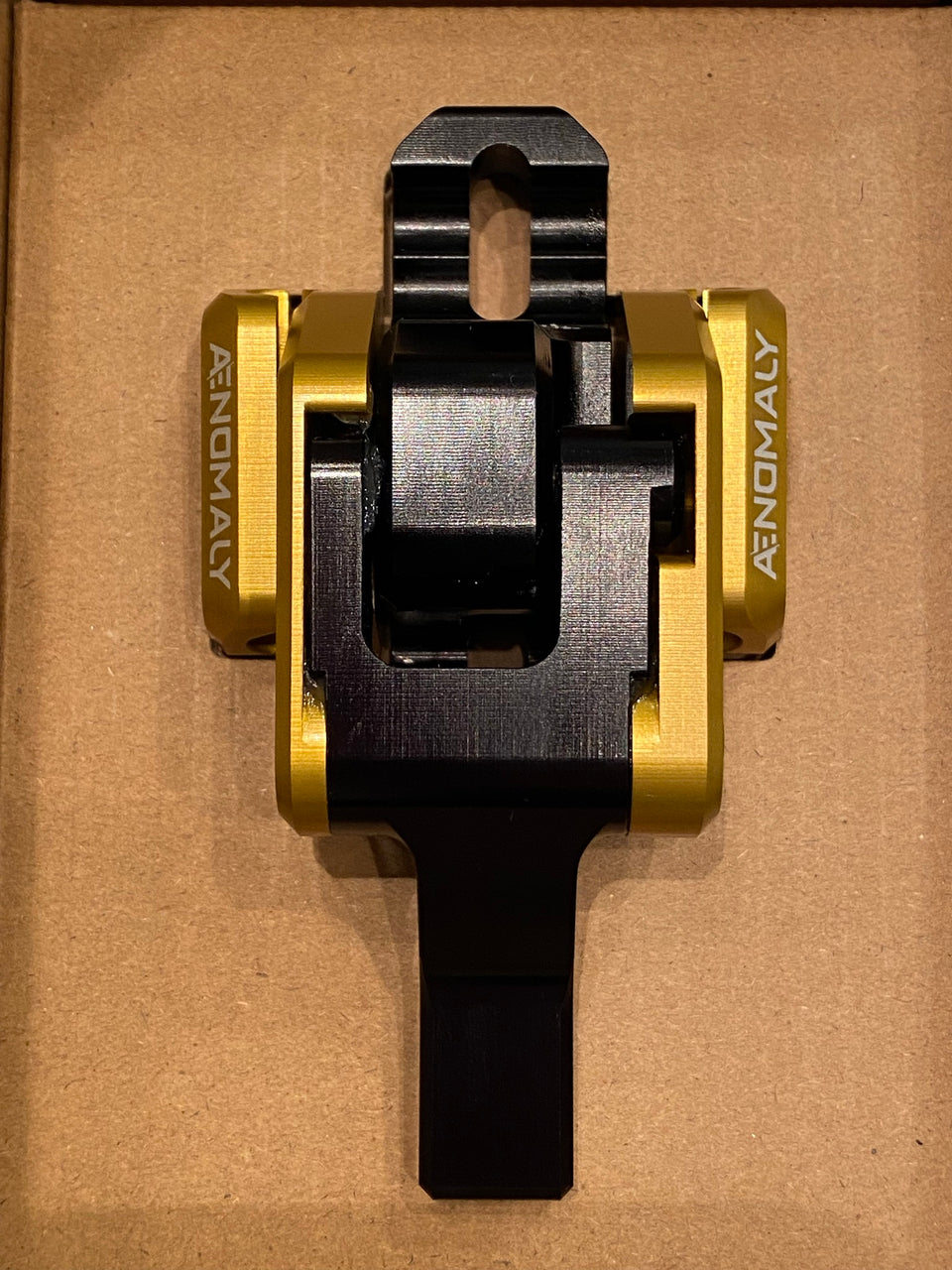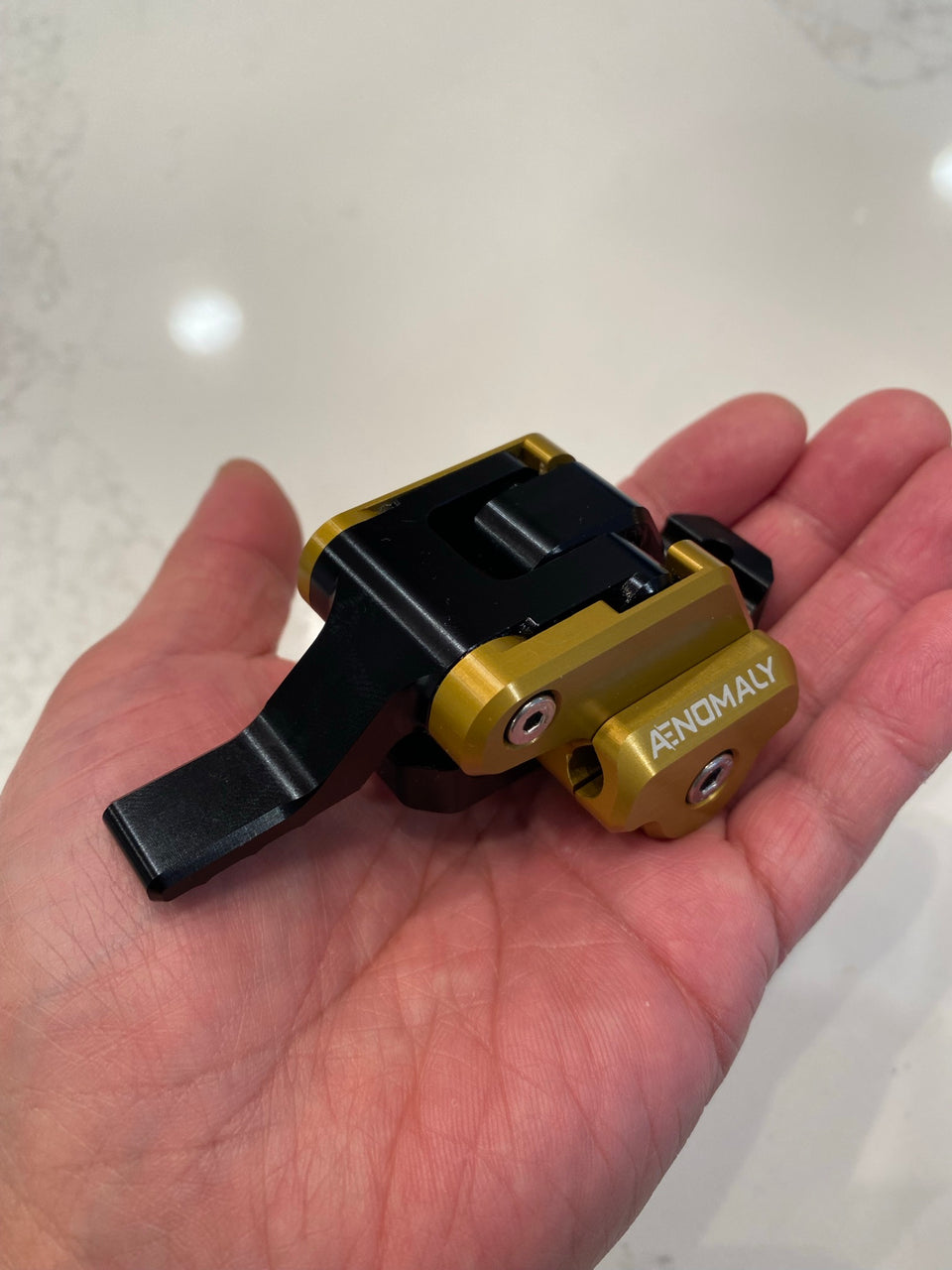 SwitchGrade - Stealth Gold
SWG-V1T1-SG
3 ergonomic positions optimized for climbing, descending, and undulating terrain: 

-10 degree forward, 0 degree mid setting, 12 degree rear position.
Haptic feedback provides positive engagement for fast no-look changes on the fly, no tools.

>1 degree change in effective seat angle.

20mm adjustable effective reach.
Machined from 7075 T6 and 6061 T6 aluminum.
Dimensions: 10cm (L) x 5.5cm (W) x 4cm (H).
Weight: 170g (actual net change approx. 100-120 grams because SwitchGrade replaces stock rail clamps which average 60-70 grams).
Compatible with a wide range of market leading seatposts and saddles (saddles must have 7mm rails). See Compatibility Guide.
Designed and tested on the North Shore. Made in Whistler, BC, Canada. 

Patent Pending.
WHICH VERSION DO YOU NEED? Go to the Compatibility Guide to find out.
"This device could be a game-changer for many bikes and riders of all types."
"I ride with multiple folks for whom this could be the best upgrade to their riding experience since the dropper post."
"One seat position isn't actually the optimum position most of the time… sometimes on the super steep climbs you've got to get your weight right over the front and at the same time keep some pressure on the saddle so I think this is a really cool idea."

"All body types will benefit from the improved ergonomics when climbing and feel less vulnerable with a seat in a friendly, positive angle while descending."
"Absolutely genius!"
Game Changey
This is for my 2023 Devinci e Troy. I love the technical climb aspect.of e bikes so this just made sense to me. Unboxing was awesome. This is functional bike jewelry. Chris King level fit and finish. Really nicely executed piece of kit. Skimmed the destructions and had it mounted in 20 minutes. Proceded to on site a test climb I rarely clean. Marveled at how quickly i was setting any of the three positions on the fly. It just plain works. Decending is also improved with the saddle tilted back like a DH sled. Both extreme positions increase control of the bike in steep terrain whether up or down. Its immediately obvious this is a bit of a game changer. I would ride without an aenomoly, unlike a dropper, which is a must have. That said theres never been a way to tilt your saddle before. Theres no quick release to replace the switchgrade. I think this product will become a must have over time. I also have an acoustic Devinci Troy RR that will be getting a switchgrade in the spring. It's that good.
Would I change anything? Yes. Make it spring back to center on its own and make the trigger more ergo, like a wolftooth lever.
What a rad idea!
I ride nearly every day, owning a Kenevo SL and T.E.M.P.O, I spend a lot of time in the sadle, and not only does the switchgrade help with steep climbs but giving the ability to adjust for different sections of a long ride helps with comfort of the big fella downstairs as well. 5 stars.
Functional Luxury
Was a little reluctant at first due to price but I'm very happy with it after a few rides. Great to be able to switch angle on long ascend as I notice I'm putting down consistent power without my legs and butt tiring too soon. Definitely a good investment if it's within your budget.